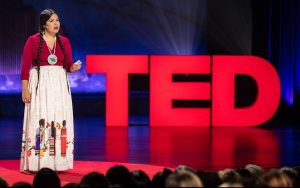 The SPH Equity, Diversity & Inclusion Team (EDIT) invites all Students, Faculty and Staff to join us for an open dialogue around these topics, to help build an open space within the SPH community to bring questions and concerns. Continuing the discussion of indigenous people history started by the EDIT Book Club on Nov 14th, we will watch a brief talk on Ted.com by Tara Houska, "The Standing Rock resistance and our fight for indigenous rights" during the first fifteen minutes, and spend the rest of the hour discussing this topic.
Summary: Still invisible and often an afterthought, indigenous peoples are uniting to protect the world's water, lands and history — while trying to heal from genocide and ongoing inequality. Tribal attorney and Couchiching First Nation citizen Tara Houska chronicles the history of attempts by government and industry to eradicate the legitimacy of indigenous peoples' land and culture, including the months-long standoff at Standing Rock which rallied thousands around the world. "It's incredible what you can do when you stand together," Houska says. "Stand with us — empathize, learn, grow, change the conversation."
Feel free to bring your lunch! Microwave and beverages are available.