Exciting cross-school work! The President of the SPH Student Senate is jointly organizing a series of talks with the President of the Public Affairs Student Association: Presidents' Talks. The first talk will be on Monday, Sept. 28 at 12 p.m. CST. We will host a conversation with Minneapolis City Council Vice President Andrea Jenkins, moderated by SPH Professor Dr. Rhonda Webb-Jones. In this conversation, we will explore the movement to defund the police and declare racism as a public health crisis in Minneapolis. There will be time for questions following the conversation. We cannot wait to see you there!
About the Presenters:
Andrea Jenkins
(Vice President, Minneapolis City Council)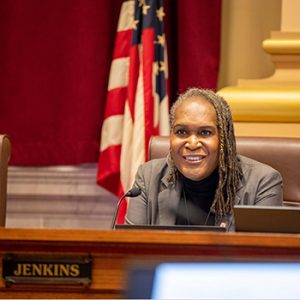 Andrea Jenkins is a writer, performance artist, poet, and transgender activist. She is the first African American openly trans woman to be elected to office in the United States.
Jenkins moved to Minnesota to attend the University of Minnesota in 1979 and was hired by the Hennepin County government, where she worked for a decade. Jenkins worked as a staff member on the Minneapolis City Council for 12 years before beginning work as curator of the Transgender Oral History Project at the University of Minnesota's Jean-Nickolaus Tretter Collection in Gay, Lesbian, Bisexual and Transgender Studies.
Jenkins holds a Masters Degree in Community Development from Southern New Hampshire University, a MFA in Creative Writing from Hamline University and a Bachelors Degrees in Human Services from Metropolitan State University. She is a nationally and internationally recognized writer and artist, a 2011 Bush Fellow to advance the work of transgender inclusion, and the recipient of numerous awards.
Rhonda Jones-Webb
Professor, Division of Epidemiology and Community Health, School of Public Health
Professor Jones' research focuses on alcohol epidemiology and policy with a special focus on race, class, and neighborhood influences. As a leading scholar on alcohol use and alcohol-related problems among African Americans, her research focuses on three primary areas:
alcohol consumption and alcohol-related problems among African Americans;
environmental factors associated with alcohol consumption and alcohol-related problems among African Americans and low income populations; and
environmental policies to prevent alcohol-related problems.
Jones' research also includes studies of alcohol consumption and alcohol-related problems among youth, young adults, and gay men.