Join us this fall, as we sit down for virtual conversations with our SPH alumni award winners about their career journeys, why they're passionate about public health and how they exemplify the school's value of making health a human right.
Christine Goertz, DC, PhD is a Professor in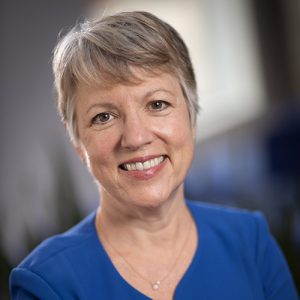 Musculoskeletal Research at the Duke Clinical Research Institute and Director of System Development and Coordination for Spine Health in the Department of Orthopaedic Surgery at Duke University. She is also the Chief Executive Officer of the Spine Institute for Quality and an Adjunct Professor in the Department of Epidemiology, College of Public Health at the University of Iowa. Read more about Dr. Goertz.
Dr. Goertz is passionate about supporting PhD students enrolled in the Health Services Research, Policy & Administration program at SPH through scholarships. As a 2020 alumni award recipient, honor her outstanding career and many contributions to advancing the field of public health by making a gift to support the Janet Shapiro Scholarship fund which provides scholarships to PhD students in the Health Services Research, Policy & Administration program.
Take a moment to share a congratulatory note for Dr. Goertz via Kudoboard. We'll share these messages of support with her after the event.
Join us for our last 2020 alumni awards celebration:
Thursday, November 19 | Rebecca Leighton, Alumni Innovator Award
We hope you'll join us this fall these conversations as we recognize the SPH Alumni Award winners and the many ways alumni and friends contribute to shaping a future of health and the next generation of public health leaders.