James A. Hamilton Society Dinner
Members of the Hamilton Society are invited to our biennial recognition dinner on Saturday, November 10, 2018, 6 pm, Nicollet Island Inn, Minneapolis. Invites will be mailed to all qualifying members in early fall.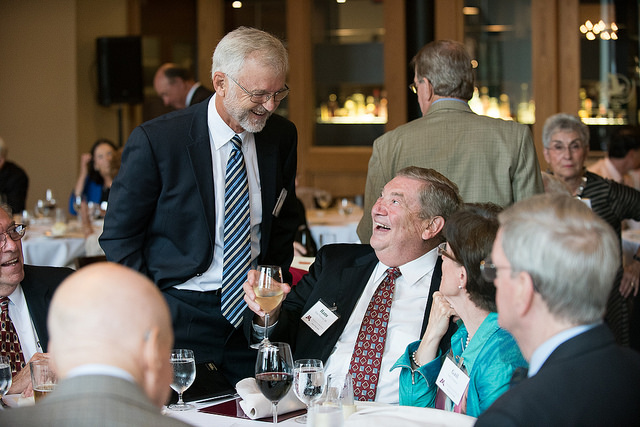 About the Hamilton Society
The James A. Hamilton Society was created in 1982 as a tribute to James A. Hamilton, the founder of the University of Minnesota Program in Hospital and Health Care Administration, as a means to recognize those alumni of the Minnesota Program who made substantial financial contributions to the Program and its Alumni Foundation.
Membership in the Hamilton Society
The James A. Hamilton Society was established in the 1980's as part of a comprehensive endowment campaign. At its inception, the Hamilton Society was considered to be a prestigious group of alumni who led fundraising efforts and were major supporters of the endowment effort. The contributed monies resulted in the creation of the Hamilton Chair, with additional interest earned from the funds in later years being used to support two additional professorships.
Today, we welcome members to the Society who contribute $10,000 or more over their lifetime to scholarships, the Alumni Association's annual giving campaign or through gifts to the MHA Program via the University of Minnesota Foundation.
Interested in a making a gift to qualify for membership? Contact Heidi Mastrud, Director of Alumni Relations at heidimastrud@umn.edu | 612-625-2443.
History of the Society
James A. Hamilton established one of the first graduate degree programs in health care administration in 1948. A recognized leader in the health care industry at the time, James A. Hamilton was a man of remarkable talents and vision. His establishment of the Minnesota Program, recognized to this day as one of the outstanding graduate degree programs in the nation, built on his strengths as an executive, a strategist, a superb problem solver, a unique pedagogical teacher, and a man who recognized the lasting value of strong collegial relationships.
Hamilton's development of an exceptionally strong alumni association for the Minnesota Program began in year one of the Program's initiation and continues to this day. He recognized that the alumni, bonded in common skills, attitudes and values, would be a constant means of support for each other and for the Program. Alumni reached out to each other for career opportunities, professional association roles and responsibilities, mentoring, and social networking to name a few. Minnesota Program alumni became recognized, not in a pejorative sense, as the Minnesota Mafia. It was not uncommon for new students, when asked why they selected the Minnesota Program, to cite the strength of the alumni association as one of the prime reasons.