Campaign Leadership
The SPH Campaign Cabinet serves as the overall coordinating body for the school's Driven: Shaping a Future of Health Campaign providing leadership, energy, and visibility. We are grateful to these esteemed members of our community for their readiness to serve our SPH community.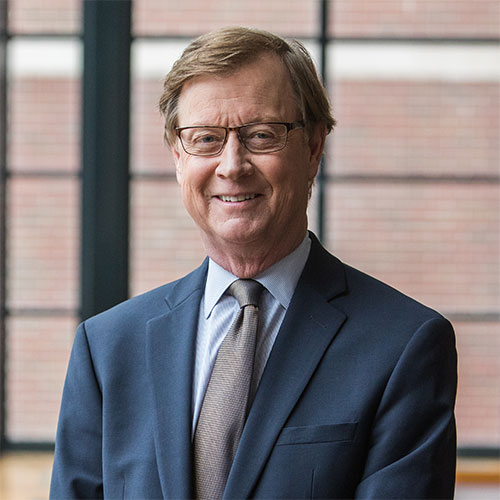 Brian Osberg, MPH '86, Campaign Chair
Retired Health Care Executive and Former State Medicaid Director
Brian Osberg has more than 40 years of experience in health management and policy, in both the private and public sectors. He served in an executive role for various health care systems in Minnesota, Massachusetts, and Michigan, and more recently, as Minnesota's State Medicaid Director.
Read more
Osberg has senior management experience in the provider, health plan, and public health care purchasing sectors. While in the private sector, his focus was on the development of integrated care systems in a managed care environment. His accomplishments included the formation of physician-hospital partnerships, the development of health plan-provider joint ventures, and the management of provider-sponsored managed care organizations. As State Medicaid Director, he developed the capacity to manage health care services, including chronic care coordination and medical home models, created innovative managed care products for Medicare and Medicaid clients, and developed related IT and e-health systems.
Prior to being State Medicaid Director, Osberg was executive vice president of Oakwood Healthcare, Inc., and president and CEO of Michigan A liated Providers Company. He held executive positions with other health care systems and managed care organizations, including CareGroup, Allina, Health Partners and Medica.
He earned a master's degree in public health administration from the University of Minnesota, where he was on the adjunct faculty of the School of Public Health. He also served as board director and president of the Minnesota Comprehensive Health Association, a state insurance pool for uninsurable Minnesotans.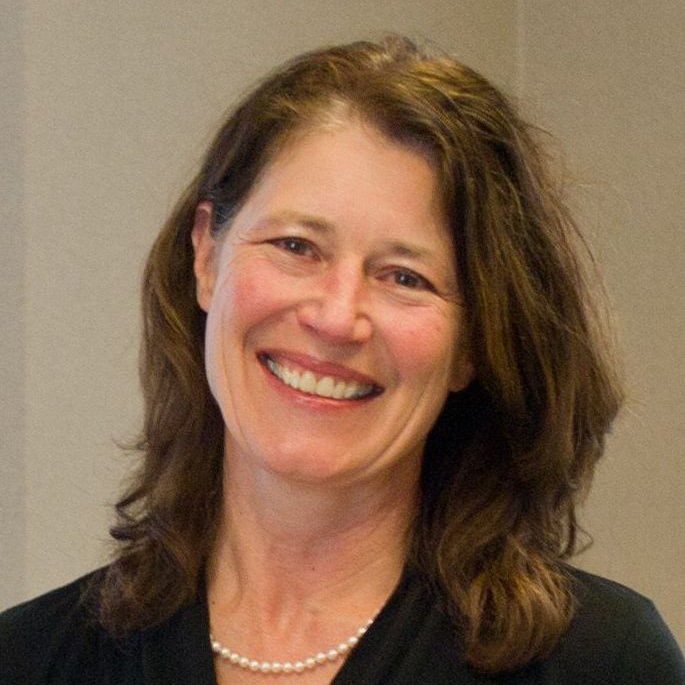 Diane Berthel
Retired Institutional Investment Consultant and Global Human Rights and Health Care Volunteer
Diane Berthel supports human rights, healthcare and micro-finance Non-Governmental Organizations (NGO) in developing countries. She uses her time and expertise to strengthen resource management and strategic planning and to improve the integrity of financial and program reporting to foreign governments and foundations who provide funding for NGO programs. Additionally, she teaches developed world expectations for governance and risk management to establish or update governance policies.
Read more
Diane is retired from her 30-year institutional investment consulting career. As principal and co-founder of Berthel Schutter LLC she served as co-fiduciary and adviser to senior management teams, developing policies and procedures to support ERISA regulated and other institutional as-sets. She co-created a sustainable governance ethic and structure for Native American tribal governments' oversight of tribal assets.
Diane has served in governance roles for numerous public and private institutions including health related Healtheast Care System, Bon Secours Health System, and Mitchell Hamline Health Law Institute.
Second oldest of thirteen children with Iowa farming roots, Diane is an adventurer and learner. The passion for learning bridges her professional and personal life and inspires a desire to understand the history and culture of people around the world. She has traveled to more than 60 countries living and working alongside local populations whenever possible.
Education
Harvard University 1994 Master of Public Administration, Bush Leadership Fellow University of Northern Iowa 1975 Bachelor of Arts Executive Education Programs:
Harvard University 2013 Emerging Issues in Health Care
University of Wisconsin Madison 2010 Financial Management for Health Care
Harvard University 2003 New World of Health Care
University of St. Thomas 1992 Aspen Institute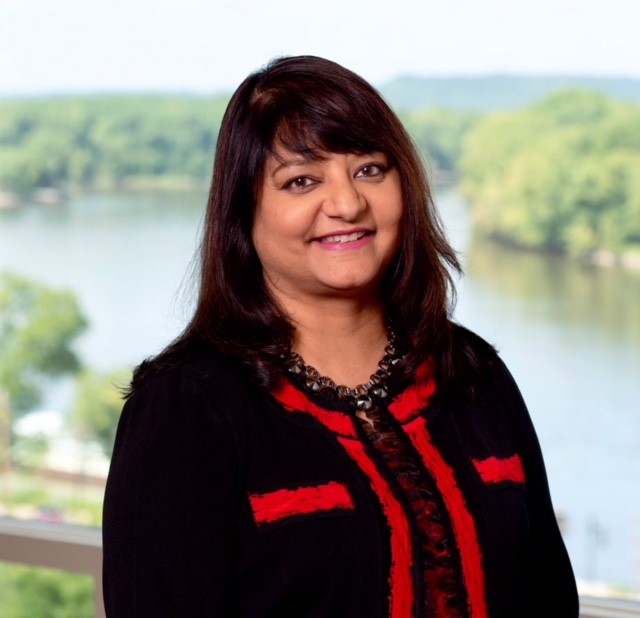 Paurvi Bhatt
Managing Director – Global Health and Community Wellbeing, Medtronic Foundation
Paurvi Bhatt is the Vice President of Medtronic Philanthropy and President of Medtronic Foundation, leading the philanthropic and community affairs strategies of Medtronic, PLC.
Read more
Medtronic is the global leader in medical technology, focused on innovative solutions to fulfill its global Mission: to alleviate pain, restore health and extend life. The company's philanthropic efforts are centered on leveraging its people, products and programs to expand access to chronic disease care to underserved communities worldwide.
Paurvi is a seasoned global health and development leader, with a distinguished career delivering innovative and successful cross-disciplinary solutions to challenging issues of scale and sustainability. Her focus includes strategic philanthropy and investment; corporate social responsibility; health benefit reimbursement, and partnership design particularly in emerging markets and resource poor settings. She has shaped best practice health and social responsibility portfolios in several companies including Levi Strauss and Co. and Abbott, as well as, with the government and nonprofit sector, at USAID, US GAO, and CARE. Her technical training is in health systems and economics – with specific focus on HIV/AIDS, women's health and impact measurement.
She is known for her commitment to building the next generation of women leaders in global health, and for advocating for "working daughters". She serves on several advisory groups and Boards focusing on leadership and global health including Last Mile Health, GlobeMed, IMPACT2030, The Conference Board – CSR Advisory Group, Women Leaders in Global Health, Global Health Council (GHC) Board, and the University of Minnesota School of Public Health Campaign Cabinet. Paurvi holds a Master of Public Health in health systems and economics from Yale University and Bachelor Degree in neuroscience from Northwestern University, is PhD (ABD) from Johns Hopkins University.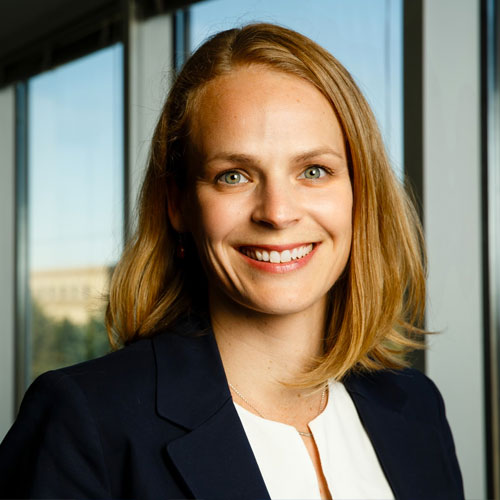 Sarah Bjorkman
Director of Communications, School of Public Health
Sarah Bjorkman has served as the Director of Communications at the School of Public Health (SPH) since 2017, where she leads all communications and marketing functions, including brand strategy, public relations, executive and philanthropic communications, and social media. She guides a team of skilled professionals as they increase the school's visibility and support the school's mission by communicating the value and impact of public health.
Read more
Sarah joined the School of Public Health in 2014 as the Marketing Director, leading the school's brand transformation and linking the school more closely to its core values. Prior to joining SPH, Sarah managed brand and internal communications at the University of Minnesota Extension. She also previously worked in the private sector, providing education, technology, and entrepreneurial solutions to estate planning attorneys.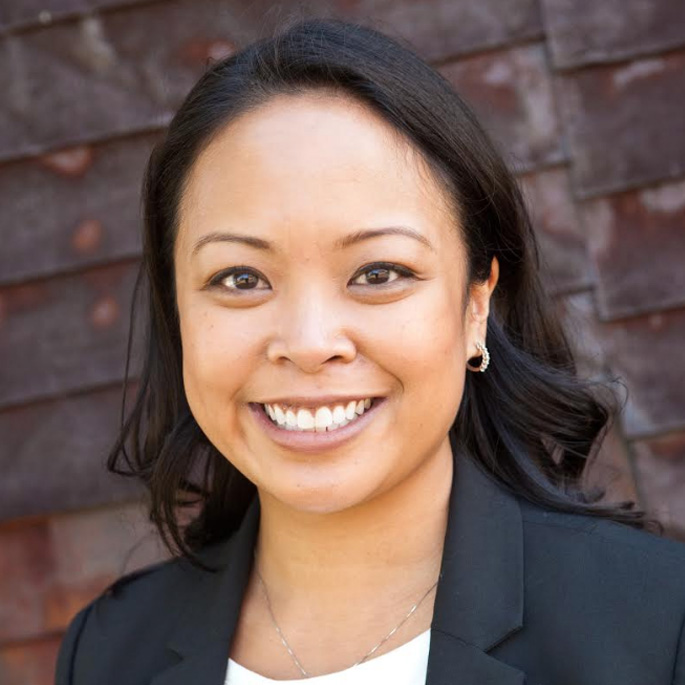 Imee Cambronero, MPH '09
Director of Impact – Analysis, Evaluation & Learning, Minneapolis Foundation
Imee Cambronero is The Minneapolis Foundation's Director of Impact – Analysis, Evaluation and Learning. Imee brings years of experience in research, evaluation, community development, and teaching. She is a data-driven story-teller and uses her skills and knowledge to strengthen staff and communities' ability to use the information for continuous improvement. Imee has a wide breadth of experience; she has worked as a community organizer and congressional staff member and has spent the last decade working in global public health and international development. Imee has held positions with the U.S. Centers for Disease Control and Prevention – Tanzania, CARE, and Save the Children. She has provided monitoring and evaluation technical assistance to over fifteen countries across multiple technical areas such as Health, Education, Agriculture, Livelihoods, Disaster Risk Reduction and Women's Empowerment.
Read more
Imee received her undergraduate degree in Biology and a master's degree in public health from the University of Minnesota – Twin Cities. She is an adjunct professor in at the University of Minnesota School of Public Health and St. Catherine's University, has served on the University of Minnesota Board of Regents, the Alumni Board for the School of Biological Sciences, and is the Past President of the School of Public Health Alumni Society. Imee enjoys traveling, loves all things Minnesota, is a retired dance teacher, and a proud mother of two.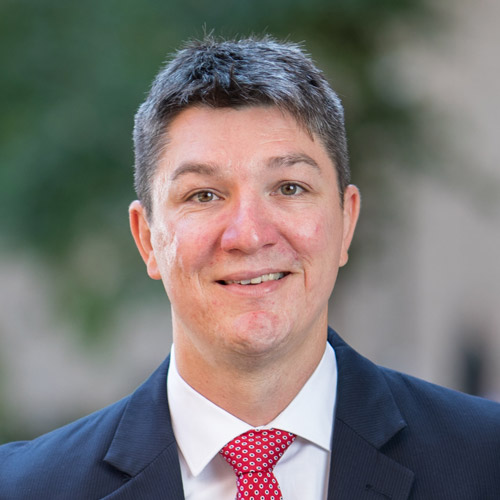 Louis Clark IV
Chief Development Officer, School of Public Health
In 2017, Louis Clark IV became the School of Public Health's chief development officer and senior director for advancement, which includes alumni relations. Clark is the school's lead fundraising and engagement strategist and directs the alumni relations and development team to provide meaningful alumni and constituent engagement across the school. His team seeks to advance the mission of SPH through volunteer and philanthropic investment.
Read more
Clark is heading up the School of Public Health's most ambitious and strategic capital campaign to date, with the goal of making the school secure in its foundation as it tackles current and future pressing public health challenges.
A veteran in the field of philanthropy, Clark first joined the school as its director of development in 2014. Prior to SPH, he spent a decade working as a development officer in large hospital systems. He holds his Certified Fund Raising Executive (CFRE) certification and remains active with the Minnesota Planned Giving Council.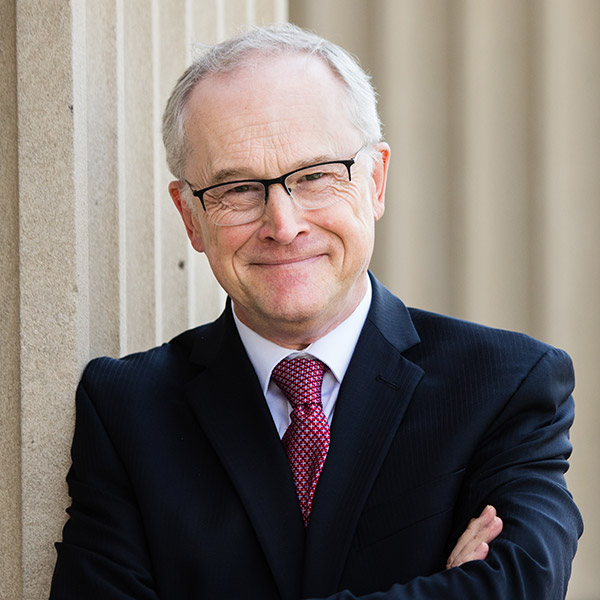 John Finnegan, PhD
Dean and Professor, School of Public Health
John R. Finnegan Jr., has guided the University of Minnesota School of Public Health, one of the leading schools in the nation, since 2005. Working with division heads, associate deans, faculty, staff and alumni, Dean Finnegan has advanced the school as a leader in research, education, e-learning, and community-engaged partnerships, and prepared it to meet the health challenges that will shape the world of 2030 and beyond.
Read more
During Dean Finnegan's tenure, the school's faculty has increased more than 40 percent and the number of its graduate and professional students has more than doubled. He believes that the school's impact on the future of health in Minnesota and around the world is anchored both in its research and also in the education of next generation health professionals and scientists. As Dean, he draws on the University's land-grant tradition emphasizing collaboration, intelligent risk-taking, support and reward of achievement, and effective decision-making.
While working on his PhD in Mass Communication in the 1980s at the University of Minnesota, Dean Finnegan joined the Minnesota Heart Health Program in the School of Public Health to work as a media writer and producer of community health promotion campaigns. In 1985, he joined the faculty in the Division of Epidemiology and Community Health, where he developed a research focus on health information campaigns and the role of mass media in health behavior and social change.
A true believer in community service, he currently is Chair of the Board of Children's Heart Link, Minneapolis, MN; and is a board member of HealthPartners Research and Education Institute, Bloomington, MN; the Minnesota Department of Health's Office of Minority and Multicultural Health, Advisory Committee; the World Federation of Academic Institutions of Global Health (WFAIGH). At the University of Minnesota, he is co-chairing the President's Initiative to Prevent Sexual Misconduct, a public health issue of national importance.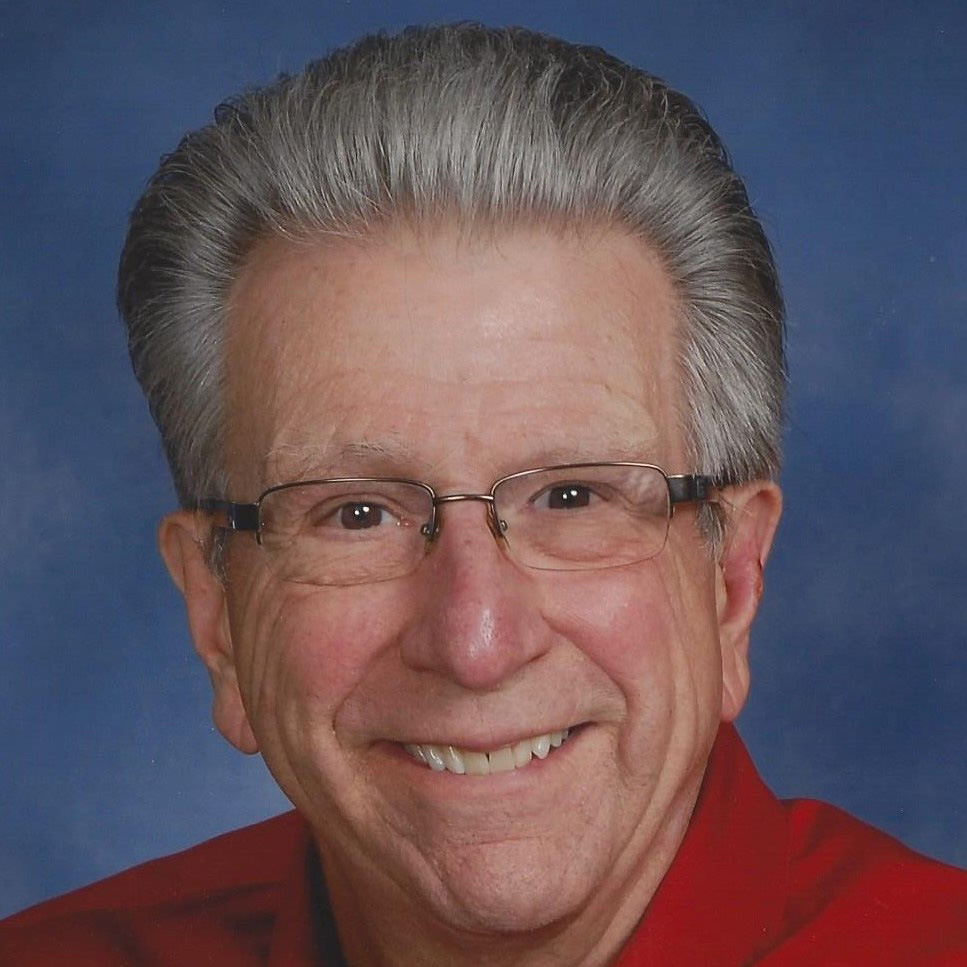 John Frobenius, MHA '69
Regent Emeritus, University of Minnesota
John Frobenius is a retired hospital administrator and health system executive who served most recently as co-president of CentraCare Health System and president of St. Cloud Hospital. Prior to that he served as executive vice president and chief operating officer for St. Luke's in Boise Idaho. Before that he served at Stormont Vail Hospital, Topeka Kansas.
Read more
He received a bachelor's degree from the University of Nebraska in 1963 and a masters in health care administration from the University of Minnesota in 1969. He has served on numerous health care and private sector boards including the American Hospital Association, the Minnesota Hospital Association, the Idaho Hospital Association and the St Cloud Area Chamber of Commerce. Among offices head, he has chaired the Idaho and Minnesota Hospital Associations' boards.
In retirement, he served for twelve years on the University of Minnesota Board of Regents.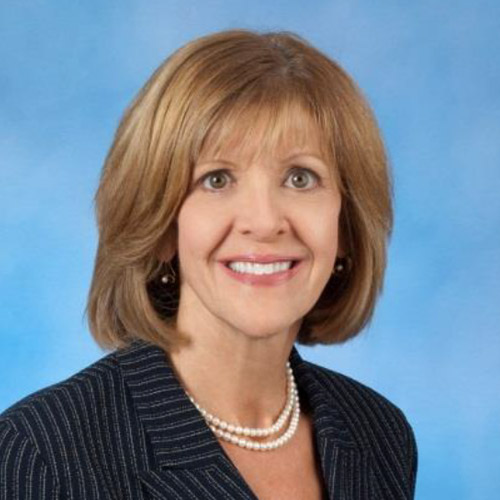 Julia Halberg, M.D., M.P.H., M.S., F.A.C.O.E.M.
Executive Health and Well-being Strategist
Dr. Julia Halberg is a focused leader and healthcare strategist bringing passion and expertise to develop tangible ways to drive innovation for the promotion of health and well-being. During her 16+ year tenure at General Mills as their Global Health and Chief Wellness Officer, she led the company's global approach to preventive care, health education, well-being programing, and medical advocacy. Julia has a track record of professional excellence in public health, occupational and environmental medicine, and delivering trusted expertise and guidance in corporate settings.
Read more
Julia earned her medical degree from the University of Connecticut. She received a master's degree in biology/ecology and a Master of Public Health degree in epidemiology from the University of Minnesota. Julia completed residency training in internal medicine and fellowship training in occupational medicine where she is board certified.
Julia has published extensively on topics including blood pressure and circadian rhythms. She is a fellow of the American College of Occupational and Environmental Medicine and served on their board of directors for 6 years.
At the University of Minnesota, Julia is an Adjunct Assistant Professor in the Department of Environmental and Occupational Health where she has mentored public health post-graduate candidates, medical students, and occupational medicine residents. Julia serves on the boards of MacPhail Music Center and the Midwest Center for Occupational Health and Safety (MCOHS) at the University of Minnesota where she serves as board chair.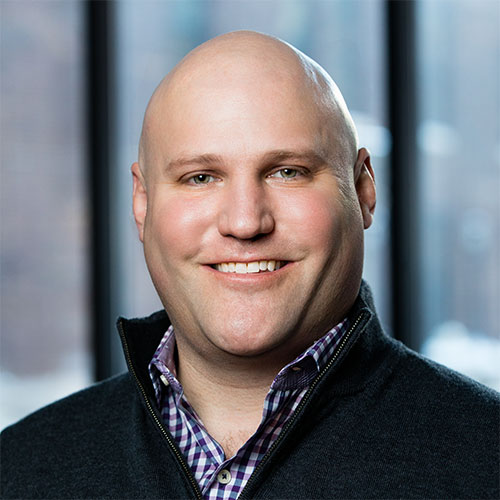 Joseph Koopmeiners, PhD
Associate Professor and Interim Division Head, Division of Biostatistics
Joseph Koopmeiners is the Interim Head and an Associate Professor in the Division of Biostatistics of the School of Public Health and a faculty statistician in the Biostatistics and Bioinformatics Core of the Masonic Cancer Center at the University of Minnesota. He received a Ph.D. in Biostatistics from the Department of Biostatistics at the University of Washington in 2009, an M.S. in Biostatistics from the Division of Biostatistics at the University of Minnesota in 2004 and a B.A. in Mathematics from Saint John's University in 2002.
Read more
Joseph develop statistical methods to answer questions related to cancer prevention, detection and treatment more accurately and efficiently. His methods research is strongly related to his collaborations in the Masonic Cancer Center and is currently focused on the following areas:
Biomarker Validation
Detection of Prostate Cancer Using MRI
Tobacco Regulatory Science
Early Phase Cancer Clinical Trials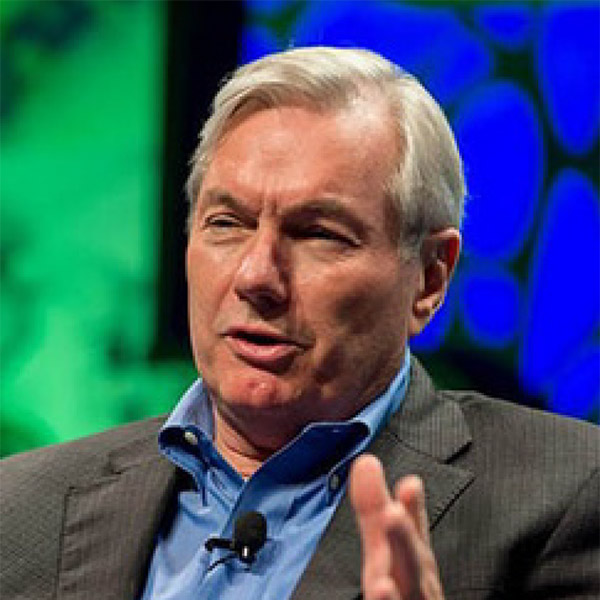 Michael T. Osterholm, Ph.D., M.P.H.
Director, Center for Infectious Disease Research and Policy
Director, Minnesota Center of Excellence for Influenza Research and Surveillance
Distinguished University Teaching Professor, Environmental Health Sciences, School of Public Health
Professor, Masters of Science in Security Technologies, Technological Leadership Institute, College of Science and Engineering
Adjunct Professor, Medical School University of Minnesota
Dr. Osterholm is Regents Professor, McKnight Presidential Endowed Chair in Public Health, the director of the Center for Infectious Disease Research and Policy (CIDRAP), Distinguished Teaching Professor in the Division of Environmental Health Sciences, School of Public Health, a professor in the Technological Leadership Institute, College of Science and Engineering, and an adjunct professor in the Medical School, all at the University of Minnesota. He is also a member of the National Academy of Medicine (NAM) and the Council of Foreign Relations. In June 2005 Dr. Osterholm was appointed by Michael Leavitt, Secretary of the Department of Health and Human Services (HHS), to the newly established National Science Advisory Board on Biosecurity. In July 2008, he was named to the University of Minnesota Academic Health Center's Academy of Excellence in Health Research. In October 2008, he was appointed to the World Economic Forum Working Group on Pandemics.
Read more
An internationally recognized expert in infectious disease epidemiology, Dr. Osterholm has expertise in: Disease Surveillance, Epidemiology, Health Communications, Health Communications: Social Media, Infectious Disease, Infectious Disease: Foodborne, Infectious Disease: HIV / AIDS, Infectious Disease: Influenza, Infectious Disease: STDs, Policy / Politics, Public Health Preparedness, and Vaccines.
Dr. Osterholm has been a national leader detailing the growing concern regarding the use of biological agents as catastrophic weapons targeting civilian populations. After 9/11, he served as Special Advisor to Secretary Tommy G. Thompson on issues related to bioterrorism and public health preparedness. Dr. Osterholm serves on the editorial boards of five journals. He is a reviewer for 24 additional journals, including the New England Journal of Medicine, the Journal of the American Medical Association, and Science. He served on the CDC's National Center for Infectious Diseases Board of Scientific Counselors from 1992 to 1997; and is former president of the Council of State and Territorial Epidemiologists (CSTE). Dr. Osterholm served for 24 years (1975-1999) in various roles at the Minnesota Department of Health (MDH); the last 15 as state epidemiologist and chief of the Acute Disease Epidemiology Section. He currently serves on the IOM Forum on Emerging Infections. He has served on the IOM Committee on Emerging Microbial Threats to Health in the 21st Century and the IOM Committee on Food Safety, Production to Consumption. He was also a reviewer for the IOM Report on Chemical and Biological Terrorism. As a member of the American Society for Microbiology (ASM), Dr. Osterholm serves on the Public and Scientific Affairs Board (where he chairs the Public Health Committee), the Task Force on Biological Weapons, and the Task Force on Antibiotic Resistance. He is a frequent consultant to the World Health Organization (WHO), the National Institutes of Health (NIH), the Food and Drug Administration (FDA), the Department of Defense, and the CDC. He is a fellow of the American College of Epidemiology and the Infectious Diseases Society of America (IDSA).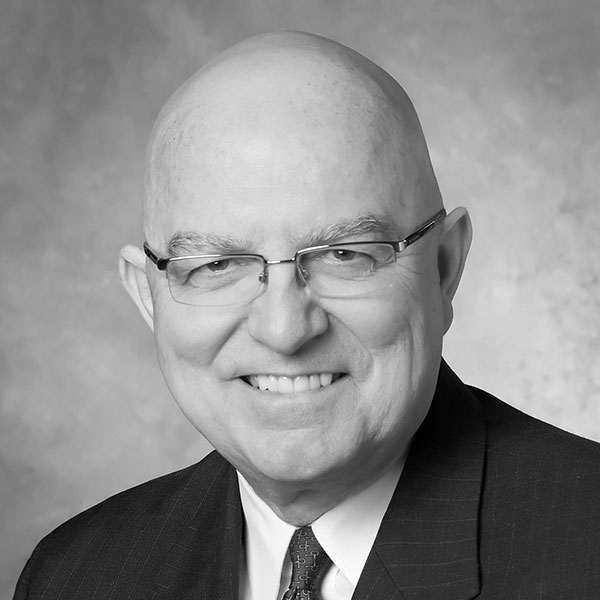 Jim Rice, MHA '71, PhD '91
Managing Director & Senior Advisor, Governance & Leadership, Gallagher Integrated
Jim Rice, PhD, FACHE is the Managing Director & Practice Leader with the Governance & Leadership service line of Integrated Healthcare Strategies, a part of the Gallagher Human Resources & Compensation Consulting practice. He focuses his consulting work on strategic governance structures and systems for high performing, tax-exempt health sector organizations and integrated care systems; visioning for health sector and not-for-profit organizations; and leadership development for physicians and medical groups.
Read more
Dr. Rice holds masters and doctoral degrees in management and health policy from the University of Minnesota. He has received the University of Minnesota School of Public Health Distinguished Alumni Leadership Award, a National Institute of Health Doctoral Fellowship, a US Public Service Traineeship in Hospital Management, a Bush Leadership Fellowship at the National University of Singapore, and the American Hospital Association's Corning Award for excellence in hospital planning. He is a Fellow in the American College of Healthcare Executives (ACHE).
Dr. Rice has worked in over 34 countries and was recently Project Director and Global Technical Lead for Governance in a large USAID funded project serving countries in Asia, Africa, and Latin America. Dr. Rice holds faculty positions at The Strathmore School of Business, Nairobi, Kenya; The Advance Institute for Health Services Management in Prague, the Czech Republic; The Judge School of Business, Cambridge University, Cambridge, England; and the Program in Health Administration at the University of Minnesota's School of Public Health. He has lectured at the Nelson Mandela School of Medicine in Durban, South Africa; The Thunderbird International School of Management in Arizona; Cornell University; The School of Public Health, University of California Berkeley, and Harvard University. He serves on the boards of directors for Children's HeartLink, an organization committed to building cardiac care capacity in developing countries, and Crescent Cove, a respite and hospice service coordinator for children facing life limiting illnesses.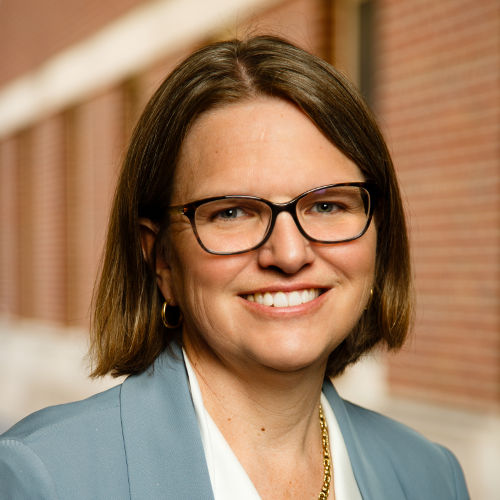 Beth Virnig, MPH '89, PhD '93
Sr. Associate Dean of Academic Affairs & Research, School of Public Health
Senior Associate Dean of Academic Affairs and Research Beth Virnig leads on faculty and research development and strategic planning for the School of Public Health. Her work ensures that the school's activities are mission focused and aimed at building a healthier future for all. Her efforts to identify and promote opportunities for SPH partnerships range from local to global and take her from rural Minnesota to the slums of Kolkata India.
Read more
As a professor, Virnig examines how patients, providers, and markets influence health care. She works to understand how health care use varies across populations and how care received relates to the patient experience. Virnig is director of the Research Date Assistance Center(ResDAC), which is funded by the Centers for Medicare and Medicaid Services to provide free assistance to academic, government, and nonprofit researchers interested in using Medicare or Medicaid data for their research. She also currently serves as the interim director for the University of Minnesota's Center on Aging, located at the School of Public Health.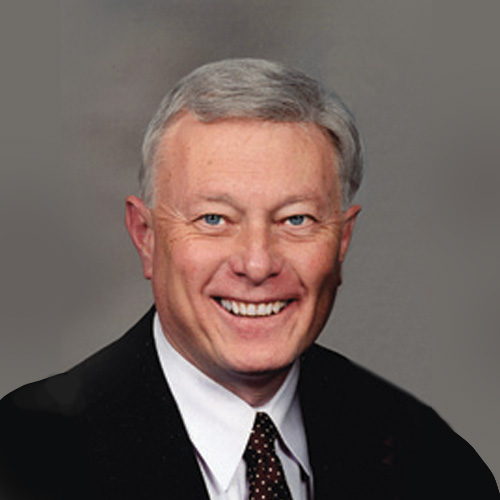 Don Wegmiller, MHA '62
Chairman and Co-founder, C-Suite Resources
C-Suite Resources chairman and co-founder, Don Wegmiller, has an expansive healthcare industry resume that spans 35 years.
Wegmiller developed and served as CEO of the Allina Health System for 15 years, one of the Upper Midwest's largest integrated systems. He went on to serve as CEO and later Chairman of INTEGRATED Healthcare Strategies, the nation's largest healthcare executive compensation consulting firm.
Read more
He has served as Chairman of the American Hospital Association, the organization's highest elective office and has led many other healthcare organizations.
Wegmiller currently serves as Chairman of Scottsdale Institute, a healthcare information technology collaborative; holds policy positions in state and national healthcare associations, and has served on the boards of more than 20 publicly held corporations over the past 20 years. He currently serves on the boards of three public companies and two company advisory boards.
Wegmiller has written and lectured extensively on healthcare topics and his work has been published in a variety of national healthcare publications. He teaches healthcare administration at the University of Minnesota, Duke University and Arizona State University.