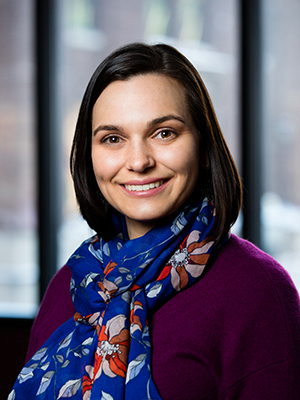 School of Public Health Assistant Professor Nicole Basta has been awarded a 2019–2021 McKnight Land-Grant Professorship, one of the most sought-after and selective faculty awards at the University of Minnesota. It's the first of four honors established by the McKnight Foundation to support faculty as their scholarship progresses. The Land-Grant Professorship program is designed for new assistant professors and they receive a $25,000 research grant in each of the two years of their professorship.
The award acknowledges Basta's promise, her track record of innovative research and funding success, and her commitment to teaching and service.
"Our school is so proud of Nicole, not only for receiving this professorship, but also for her unstinting excellence in everything she does for her field and her students," says School of Public Health Dean John Finnegan. "She is exactly the kind of rising young faculty member this award was created to honor."
Basta is an infectious disease epidemiologist and her work focuses on maximizing the impact of vaccines to prevent illness and death. Although vaccines have been a public health tool for decades, there is still a lot to learn about how they prevent illnesses and why their uptake is lacking in certain people and populations. Basta works across the globe to fill that knowledge gap, including studying barriers to flu and HPV vaccine use in Minnesota.
Her research is distinctive for how she covers the entire spectrum of vaccine development, from gathering clinical evidence to designing population-level vaccination programs to using her findings to recommending public health policy in the U.S. and abroad. For example, her research in Mali on a new meningitis vaccine was the first to show that the vaccine, which contains tetanus toxoid, boosts tetanus immunity, a significant finding for African countries where many infants still die of neonatal tetanus. Several countries have now introduced this vaccine into their infant vaccination schedule.
"It is truly an honor to have been selected for the McKnight Land-Grant Professorship and a testament to the excellent mentorship and support I've had," says Basta. "I hope to use the funds that accompany this award to strengthen my global health research partnerships, especially in low-resource settings where we are working to improve access to vaccines that can prevent against HPV and measles."
Basta is conducting a pilot study in Uganda aimed at increasing the chances for babies to get timely measles' vaccinations. Socioeconomically constrained mothers receive a text-message reminder when it's time to vaccinate their babies. A follow-up text provides access to and vouchers for ride services, such as Uber, to get them to clinics. If the approach improves access to vaccinations and prevents outbreaks, it could be used to protect infants in similar settings across the globe.
________________________________
Read more about Nicole Basta
Planting Seeds to Grow Global Collaborations: CGHSR grant recipients strive to unlock vaccination barriers
Raising Infant Vaccination Rates Through Innovations in Access
Basta Studies Importance of Vaccines on Local and Global Scale
Basta Highlights Promising Results of U.K. MenB Vaccine Study
Explaining Herd Immunity Benefits Raises Willingness to Get Flu Shot