In the United States, we have one great abiding struggle — the battle for equal rights for all people who face discrimination. The list is long and to be on it, you only have to be old, gay, non-white, female, disabled, poor, an immigrant or a score of other labels that people view as "different" or "lesser" in some way.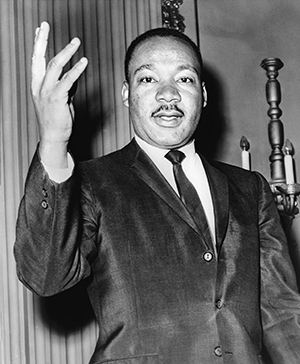 On Monday, January 21, our country will celebrate Dr. Martin Luther King Jr. who did more than any other American in modern times to raise our awareness of racial injustice. He is our country's standard for devotion to equal rights and of courage in the face of persistent and lethal hatred.
Dr. King was only 39 years old when he was assassinated by a white supremacist. In many ways, Dr. King was just getting started. Shortly after his death, Congress passed the Civil Rights Act of 1968 (the Fair Housing Act) that prohibited discrimination in housing, a ruling with tremendous potential to improve public health.
In our work at SPH, we try hard in our own way to emulate Dr. King's commitment to the cause of equal rights and equity. Public health is about fostering the conditions every person needs to live a healthy life, and we follow myriad paths in our research, teaching, and community engagement in pursuit of that goal. Here are just a few of the things we do:
Gather data and communicate with policy makers and the public about who is uninsured in Minnesota, highlighting pockets of inequity

Evaluate exposure to toxic environments to protect the health of all workers

Partner with communities to address birth disparities for African-American mothers

Work to improve policies that bring healthy food to disadvantaged communities

Analyze and create health protective behaviors for youth in all socioeconomic groups

Craft our curriculum to expose inequality, inequity, and explore ways to make change

Conduct genome-wide studies to protect against disease across all populations

Explore the unique effects of prostate cancer on the lives of gay men

Dig deep into structural racism and health, and design new ways to teach medicine

Investigate the role of racial, ethnic, and socioeconomic disparities in older adults' quality of life
However we choose to remember Dr. King, please take a moment to reflect on the challenges that he reminded us still exist in this country, and to recommit to the good work we do as we strive to create healthier and better lives for all.
John R. Finnegan Jr.
Dean and Professor, School of Public Health