School of Public Health Associate Professor Ruby Nguyen has been named a collegiate recipient of the University of Minnesota President's Community-Engaged Scholar Award.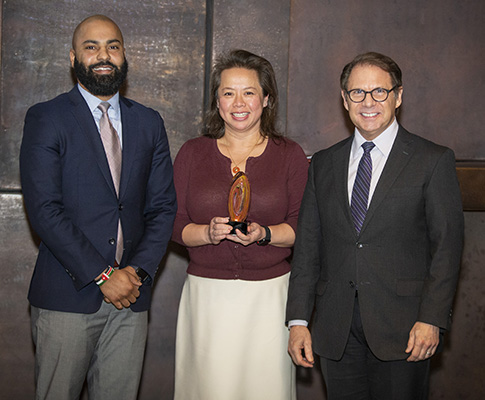 The award honors a person with a longstanding academic career who has partnered with the community to advance their field in service of the public good. Nguyen specializes in women's and children's health, with an emphasis on the well-being of Asian families in Minnesota.
"Ruby makes our school proud with this award," says School of Public Health Dean John Finnegan. "She brings to her research a deep commitment to working with communities to address their needs and she is a model for our entire school. Her research into the effect of chemical exposures on children, violence against Asian women and children in Minnesota, and the burden of hepatitis B on the Minnesota Asian population is groundbreaking and conducted in concert with with the people she serves."
Nguyen is unique in the School of Public Health for her connection to the Asian community in Minnesota. This has allowed her to address issues that have been outside the purview of most researchers. For example, when the Minnesota State Legislature mandated in 2015 that a prevalence study on the rates of violence against Asian women and children in Minnesota be conducted, Nguyen and community members created a successful partnership, and for the first time, reported on violence in this community. Their findings were disseminated to the 2016 Minnesota Legislature and throughout the Asian community, and set the basis for future policymaking and fund allocation.
Nguyen is also an award-winning teacher and was the recipient of the School of Public Health's 2018 Leonard M. Schuman Award for Excellence in Teaching. She incorporates numerous community-based organizations (e.g., the Aurora Center, Asian Women United in Minnesota, the Minnesota Department of Health) and other collaborators into her courses.