Across America, the opioid epidemic affects moms, babies, and families. A key concern is infants born with Neonatal Abstinence Syndrome (NAS), a condition associated with exposure to opioids in utero that may result in hyperirritability at birth, feeding difficulty, and respiratory problems. School of Public Health Associate Professor Katy Kozhimannil recently co-authored an editorial highlighting research examining the community-level forces, structural factors, and social determinants contributing to the emergence of NAS cases.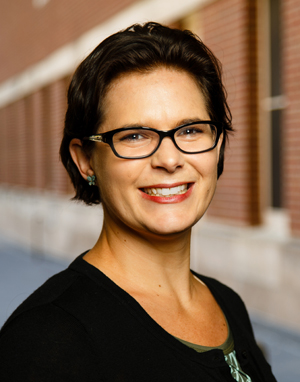 "In public health and health care research, we often focus on the clinical systems and policies for prevention, screening, and treatment," says Kozhimannil. "These are critically important, but we need to take a wider lens to tackle this issue and recognize that the social determinants of health matter in the opioid crisis."
The editorial, co-authored by Lindsay Admon of the University of Michigan, was published in the Journal of the American Medical Association (JAMA) and accompanied a study by Stephen W. Patrick and colleagues, looking at the association among county-level economic factors, clinician supply, and NAS. That study found a relationship between unemployment and NAS in rural communities, and between a shortage of mental health professionals and NAS in urban communities.
"The findings from this study highlight the need for geographically tailored strategies to address neonatal manifestations of the opioid epidemic," says Kozhimannil. "The findings also suggest that efforts to address how the opioid epidemic affects newborns and their families need to extend beyond clinics and should reach into community capacity, including local economic conditions and mental health provider shortages. Above all, we have to focus on mothers of opioid-affected infants because they have the greatest individual agency to affect NAS when supported by both clinical systems and community structures."
In terms of solutions, Kozhimannil says the study's findings suggest there may be promise in investing in community prosperity as a component of efforts to counteract the effects of the opioid epidemic in rural counties. She also said the results reveal the necessity of focusing on the health of pregnant and parenting women in addition to diagnoses that occur among their infants.
"If the well-being of infants with opioid-affected births is a central concern, efforts to both study and address this crisis ought to begin with their mothers," says Kozhimannil. "This will require renewed efforts to prevent, detect, and treat opioid use disorders among childbearing women."
In particular, future prevention, policy, and research efforts should:
Focus more broadly on reproductive-aged women, regardless of pregnancy status.
Amend or repeal punitive laws that discourage women from disclosing substance use during pregnancy.
Allow pregnant and postpartum women priority access to insurance coverage expansion programs and other programs that allow for treatment continuation.
Address important knowledge gaps that remain, including a focus on use of multiple substances (e.g. opioids, methamphetamines, marijuana, alcohol, tobacco) among reproductive-aged and pregnant women.
"Moving forward, I hope that our research and our policies promote equity by routinely centering around mothers and on the social and structural determinants of their health and well-being, including the risks associated with opioid dependence," says Kozhimannil. "When clinical, community, and policy efforts align to address structural factors that shape health crises like the opioid epidemic, the fabric of society is strengthened."