The Robert L. Kane Graduate Scholarship of Excellence in Long-Term Care
The Robert L. Kane Graduate Scholarship of Excellence in Long-Term Care (LTC Scholarship) provides $40,000 during the academic year for University of Minnesota Master's-level or professional doctorate students who are fully committed to pursuing a professional career in long-term care following the completion of their degrees.
The Graduate LTC Scholarship is open to any student currently enrolled in a Master's or professional doctorate (e.g., Doctorate of Nursing Practice/DNP; Doctor of Pharmacy/PharmD) degree granting program at the University of Minnesota. Students who have previously received the Graduate LTC Scholarship are not eligible. Applicants must demonstrate that their Scholarship year is the final academic year of their program. Graduate LTC Scholars must demonstrate a commitment to working in a long-term care profession immediately following the receipt of their degree. We anticipate funding one Graduate LTC Scholar per academic year.
Learn more about the current and past Robert L. Kane Graduate Scholars of Excellence in Long-Term Care below: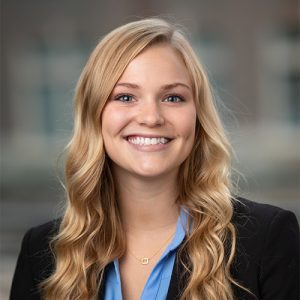 Please provide a biographical summary of your interests, academic/professional background, and similar details.
My interest in the fields of long-term care and aging originated during my high school career when I first decided I wanted to be a long-term care administrator while volunteering with my high school volleyball team at a local nursing home. From there, I attended Concordia College in Moorhead, MN, where I studied Long-Term Care Administration and Healthcare Leadership. After graduating from Concordia, I pursued licensure as a Nursing Home Administrator in the state of Minnesota, passing my national and state board examinations to do so. In the fall of 2018, I began a new journey at the University of Minnesota where I am currently a second-year Master of Healthcare Administration student.
From a young age, I have been drawn to seniors and the potential to contribute to a higher quality of life for older adults through innovative pathways in a future career drives me and is one of my greatest passions.
What led you to apply to the Scholarship?
I applied for the Robert L. Kane Scholarship of Excellence in Long-Term care because of everything that the scholarship embodies: innovation, research-practice integration, and community collaboration in long-term care. These elements align seamlessly with the goals and foci I have committed to for my future career. After learning more about who Robert (Bob) L. Kane was: a dedicated practitioner, researcher, author, and educator, I can only hope that the work I accomplish during my time in this position and my future career will contribute and be of service to the fields of long-term care and aging, as did all of Dr. Kane's work. I am incredibly thankful and honored to be supported throughout my final year of my educational journey by the Robert L. Kane Scholarship of Excellence in Long-Term Care.
What is the project you plan to work on while the Scholar of Excellence? What do you hope to achieve?
During my time as the Scholar of Excellence, I will be involved with research efforts for the Minnesota Assisted Living Scorecard through the Minnesota Department of Human Services, under the direction of Dr. Tetyana Shippee and her colleagues. I will be responsible for developing and executing a strategy for facilitating rural stakeholder feedback from providers, consumers, and families.
Through my research, I hope to collect and analyze meaningful results based on rural stakeholder reactions to the Assisted Living Scorecard quality indicators that inform decisions to design a scorecard that accurately reflects the needs and concerns of all stakeholders: urban, suburban, and rural. It is critically important that rural voices are heard throughout this process and I feel fortunate to serve as a liaison for this information.
What are some of your professional goals after the Scholarship ends?
After my position as the Robert L. Kane Scholar of Excellence concludes and I graduate from my Master of Healthcare Administration program in May of 2020, I intend to pursue employment as a Licensed Nursing Home Administrator and utilize my licensure. Throughout my education and various internship and residency experiences, I have discovered and identified interests and passions that I will integrate with my future career path; these include innovation through research-practice integration, quality of life improvement initiatives, community collaboration, and sustainability efforts.
As for my long-term career path, I plan to hold an executive leadership position at a long-term care organization and integrate that position with policy through professional organization memberships and leadership roles. Although it is difficult to determine a solidified long-term path for my future career, I know that it will lie within the fields of study and practice that I have grown to love: long-term care and aging.