History of the Health Equity Minor
10th Anniversary of the Health Equity Minor
The Health Equity Minor (HEM) is a graduate minor that allows students to specialize in studying health disparities and inequalities. A firm understanding of the structural factors that cause health inequalities will help prepare students to enter the professional world of public health as an effective advocate.
The minor is celebrating its 10th year anniversary this year! We are excited to show all the improvements and progress the minor has made over the past decade.
See below for enrollment trends and major milestones that have shaped the history of the minor for the past 10 years.
HEM Enrollment Trends
Over the past 10 years, the Health Equity Work Group has tracked how many students enrolled in the Health Equity Minor. Major milestones are included, such as the expanding the course selection and opening the minor to students in all graduate programs. Check out the graph to see how far the Health Equity Minor has come!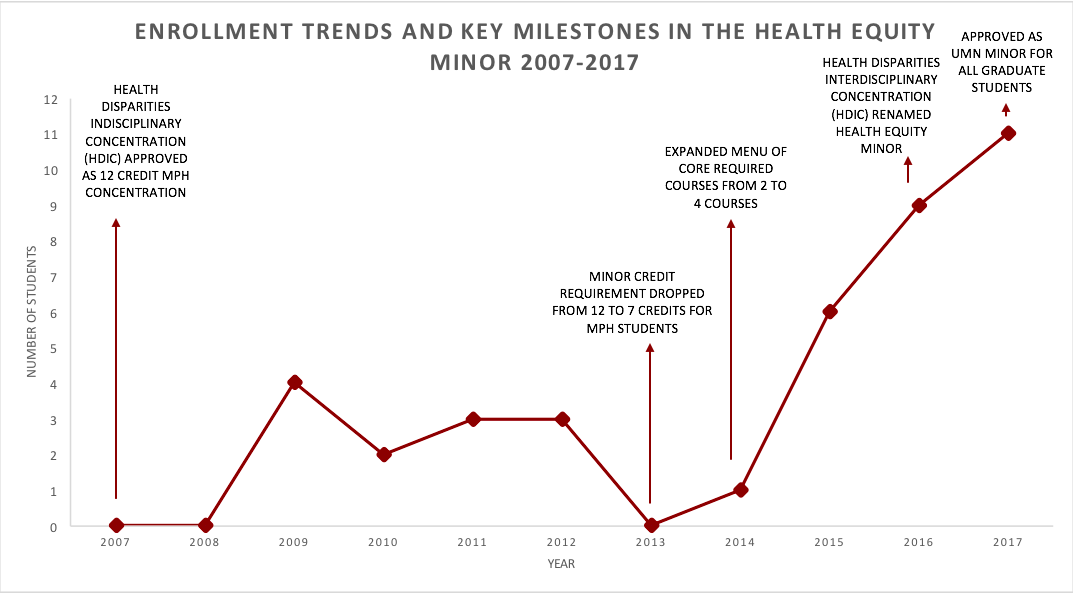 HEM Enrollment by Major
The Health Equity Work Group has collected data on which majors the graduate students, who completed the Health Equity Minor, are enrolled in. The graph below shows the different divisions in the School of Public Health these students graduated from. The Health Equity Minor is now open to all graduate students and we look forward to adding new graduate majors to this graph in the future!