"My educational background is in economics and international studies, and I gravitated toward health care because I was seeking a career with a mission and purpose.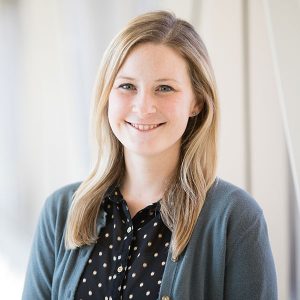 For several years I worked with an electronic health records company, traveling the country helping organizations streamline their electronic record processes and ultimately improve patient care.
The more I learned about overall health care operations, the more I realized I wanted to both dig deeper and to zoom out from the technological perspective so I could contribute to health care accessibility on a systems level. There are so many moving parts. What drew me to this MHA program is the school's approach: our 'theory-driven, practice-enabled' model appealed to me. Since I'd been in the industry for a while, I really wanted an applied program that allowed me to gain skills I could immediately put to use.
This spring I had the opportunity to work on a real-world problem for one of the largest national health administration case competitions as a member of a three-student team, where we analyzed how a suburban hospital could accommodate rapid growth in demand without sacrificing the quality of services provided. The case was fascinating because it blended operations and strategy, looking at how to be more efficient with existing resources while growing into new areas. The three of us spent a month creating a detailed strategy plan and making recommendations that the CEO of that hospital is now actually taking under consideration — and we won first place. That was incredibly gratifying."