"My path to public health began with an interest in the environment, and along the way, I was drawn to nutrition — I wanted to understand more about how our food systems work and what we can do to lessen our environmental footprint.
At the same time I was broadening my understanding of social justice movements, and the two interests began to intersect. I decided to pursue an MPH to become a public health dietician and work on the issues I care about at a systems level.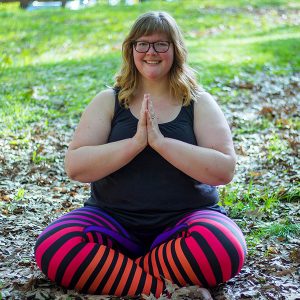 Larger people face stigma that reduces the likelihood they'll get to a gym, a yoga class, or a nutrition class. We also know that stigma alone prevents people from visiting the doctor, which delays all kinds of screenings and disease diagnoses, and we know that larger people receive late-stage diagnoses more frequently. Right there we can see evidence of health disparities that have nothing to do with size but everything to do with weight stigma.
I'm committed to helping people understand how to move away from anything that uses food to further stigmatize people, and move towards ways that can help people heal their relationships with food, society, and each other. My goal is to work on reducing weight bias in the Twin Cities, and to that end I recently started a nonprofit called the Radical Health Alliance. 
For example, I love yoga, but since there aren't many places here where truly large people can do yoga and feel supported and safe, I decided to get trained and certified as a yoga teacher. A friend and I designed a group for people who identify as fat people who are fat positive and live in the Twin Cities, and now I'm teaching several classes. It's very powerful for people to come to a yoga class and see someone who looks like them leading the class and to see fellow students who look like them. I think it gives them more permission to try things they wouldn't otherwise — some participants say they wouldn't trust going to any other class.
This school is a great fit because it gets me in touch with the specific health culture here in Minnesota, which is important: it's not the same as in the south, or on the coast. Being at SPH helps me understand our unique environment. We value health. I'm looking for places where people can find some movement in their ideas and beliefs around weight and weight stigma."