"
I love that public health is community driven. Our culture can have such an individualistic focus, and it's a breath of fresh air to be in a field that has a community orientation.
I'm interested in both cancer and infectious disease epidemiology. 

I'd like to work in disease surveillance because I find it interesting and appreciate that it focuses on the day-to-day things we can do to keep the public healthy.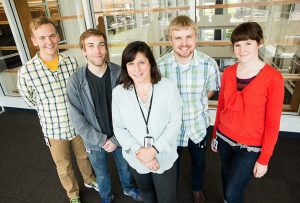 Over the past year I've had the opportunity to work at the Minnesota Department of Health on "Team Diarrhea," a part of the foodborne illness surveillance unit. Team D assists epidemiologists by interviewing people who were diagnosed with a reportable foodborne pathogen, such as salmonella or E. coli. We ask questions about their exposures prior to illness onset, including their food history, recent travel, and animal exposures, among other things. These interviews can then be used to help identify outbreaks of foodborne illness and their causes.
On Team D, I've learned a lot about foodborne pathogens, disease surveillance, and outbreak investigation and response — things that are more easily learned in practice than they are in the classroom."