Grace Strangis Helps SPH Students Gain International Experience in Memory of Her Husband Ralph
By Mo Perry
"The world is becoming more and more integrated, and along with that is going to come a lot of new public health concerns."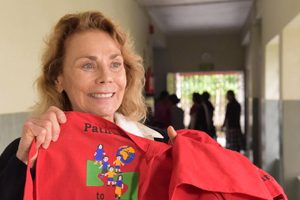 Growing up in a small farming community in southwest Minnesota, Grace Strangis didn't exactly have a globe-trotting childhood. But by the time she and her late husband Ralph (B.S.L., '58, J.D., '60) met, her hunger to see the world could no longer be denied. She left her career as a pediatric nurse to become the owner and partner of a corporate travel agency, successfully growing it to a multi-million dollar business and traveling to far-flung corners of the globe along the way.
When she sold the business in 2002, she wondered what was next. "I had traveled all over the world, to India, Africa, and many developing countries, and I saw so many kids who badly needed medical care," says Strangis. She was moved to do whatever she could to change that.
She funneled the proceeds from the travel agency sale into the creation of a nonprofit. Its focus was organizing trips to India, Africa, and China for board members of the Children's Home Society, giving them the opportunity to volunteer at orphanages.
In 2008, Grace and Ralph Strangis established Pathways to Children as a 501(c)(3) with a mission of empowering children in extreme poverty through carefully selected collaborative projects focused on education, healthcare, and volunteerism. It represented the culmination of her years of experience in organizing international travel, and her passion for supporting the wellbeing of children in poverty-stricken communities.
Since 2016, Pathways to Children has supported School of Public Health (SPH)  graduate students so they can spend winter break in Kolkata, India at Jan Seva. Jan Seva is a center that provides healthcare, vocational training, support for children with special needs, and a preschool for 225 children between the ages of 2 and 6.
"We're literally changing a whole community," says Strangis. The SPH students collaborate with community health workers at the center to instruct community members on topics including sanitation, hand washing, and nutrition.
Pathways to Children is unique in its deep embeddedness with Jan Seva. "Other nonprofits build schools and send volunteers and supplies, but then they don't know what happens after that," notes Strangis. "With Pathways, it's a continuing program because we own the school. We keep track of these kids."
The program has achieved impressive results for the community, including trainings on hygiene, nutrition, and a new initiative around domestic violence. SPH students who travel to Jan Seva put together a review of their accomplishments when they return to Minnesota. When the next set of students head out, they pick up where the previous group left off. "That's how the whole program is advancing in Kolkata," says Strangis.
After Ralph's passing in 2018, Grace knew she wanted to establish a fund in his memory at the University of Minnesota. "He worked very hard on Pathways, and saw how important the partnership with SPH was, and that the results we were getting were so tremendous." To honor Ralph's memory, Grace established the Ralph Strangis Pathways to Children International Travel Fund.
The fund provides financial support for international travel experiences for SPH students focused on poverty-stricken communities, particularly those experiences that leverage SPH's partnership with Pathways to Children. These experiences stand to not only benefit the international communities the students visit, but also our increasingly global community here at home.
"It's so important for public health students to be aware of the immigrant and refugee communities in the U.S., and the health challenges that are unique to these populations," says Strangis. "It's not just measles, mumps, and polio anymore. For example, in Ethiopia, one of the biggest problems is osteo-tuberculosis — a form that we don't have here. This kind of field experience prepares future public health workers to better deal with health problems we don't usually see in the U.S."
Strangis hopes others will recognize the importance of global field experiences for public health students and donate to the fund as well. "International public health is in the limelight now, and people realize how important it is to help public health throughout the world." In an increasingly interwoven world, a well-trained, empathetic, globally-minded public health workforce is needed more than ever.