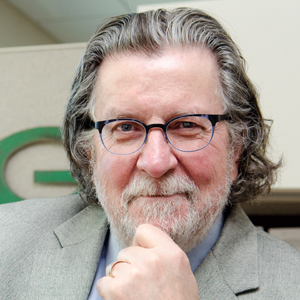 HealthNewsReview.org (HNR) has received a new two-year grant from The Laura and John Arnold Foundation to continue and expand its mission to make sense of health journalism. The website, housed in the School of Public Health, is published by Adjunct Associate Professor Gary Schwitzer and aims to raise the quality of health news while helping consumers improve their critical thinking about health and health care.
"We are the un-spinners. Patients and consumers need help, not hype," says Schwitzer. "They get that help from us."
Started in 2006, HNR reviews thousands of health news stories from major media outlets including The New York Times, NPR, and Fox News.
The new grant provides HNR funding to build on its award-winning work, as well as hire additional full-time editorial staff, continue its audio podcast series, and initiate new video production projects.
"The grant will also allow us to free up more staff time to experiment with a new venture: offering help to journalists and PR professionals as they are working on their pieces," says Schwitzer, who says HNR plans to pilot this outreach program later this year.
To maintain impartiality and objectivity in its news critiques, HNR doesn't accept advertising, which Schwitzer said makes it reliant on the sort of independent, foundation support provided by the Arnold Foundation.
"It is difficult to find funders to support our work partially because, frankly, we usually upset someone with anything we write on any given day," says Schwitzer.
HNR runs stories through a rigorous, 10-point review. Journalists or PR professionals may not take HNR's criticism well or researchers and industry representatives could disagree with its independent review of medical evidence. Given those possibilities, mainstream support from the health and news industries isn't likely.
"Without support from organizations like the Arnold Foundation, this project never would have gotten off the launch pad, much less reached the heights that it has," says Schwitzer.