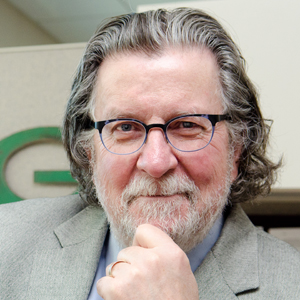 Inaccurate health news stories and confusing messages regarding medical research have contributed to recent episodes of vaccine-preventable disease outbreaks, disappointing or fraudulent treatments and other worrisome problems in the United States. To help address these issues, School of Public Health Adjunct Professor Gary Schwitzer co-authored an editorial offering insights into the origins of the mistrust and misinformation, and steps for improving the accuracy and quality of health journalism.

The editorial was published in the Journal of the American Medical Association (JAMA) and is the latest installment of a multi-part JAMA series exploring the public's eroding trust in health care.
"Anybody in health care and journalism should be aware of the intersection between medicine and the media and how public trust is at risk," says Schwitzer. "If we lose trust in both health care and journalism, we're left with no reliable way to help the public make informed medical decisions."
In the editorial, Schwitzer and his co-authors suggest that the public's mistrust in journalism starts with how reporters communicate medical information to their audiences. At its root, the problem often begins when reporters make definitive, attention-getting headlines about scientific results that may, in reality, be uncertain. Such stories can go onto inaccurately convey the benefits, harms, effectiveness or costs of treatments. Likewise, scientists and public relations professionals may intentionally or inadvertently  "spin" research results that emphasize benefits while minimizing limitations or harms. Finally, heavily promoted celebrity health news can significantly and unduly influence the public's perception of medical issues and treatments.
To improve the accuracy and trustworthiness of medical journalism, the authors make the following recommendations:

Support high-quality journalism by creating data-driven investigative news stories that reveal concerning details, such as conflicts of interest, fraud, and nonevidence-based recommendations.

Create alternative sources for medical news, such as STAT and the nonprofit Kaiser Health News, which cover a range of health and health policy topics.

Clinicians could offer to serve as key sources for news media about health and wellness stories so that truthful messages are communicated.

Clinicians should take action to refute incorrect health information by commenting on stories and making statements through social media.
The authors believe that taking these steps will increase collaboration among medicine and the media and make medical professionals and journalists better, more accurate producers of health information, and as a result, raise the public's trust in both groups.
Schwitzer adds that while the editorial appeared in a medical journal — and so, emphasized medicine — many of the suggestions are important for public health professionals as well.