Transforming Patient Safety
William Santulli, MHA '84, is the Chief Operating Officer for Advocate Aurora Health in Downers Grove, IL and Milwaukee, WI. He is among Modern Healthcare's Top 25 COOs for 2018.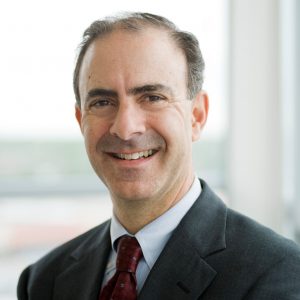 What health care issue matters to you most?
"Patient safety. All U.S. health care delivery systems have the potential to avoid serious safety events (SSEs) through strategic patient safety planning. Common SSEs include medication errors, patient falls, nosocomial infections, delay in diagnosis and treatment, and ineffective handoffs."
How have you addressed the issue in your organization?
"At Advocate we launched a safety journey in 2013 to become a high reliability organization. This comprehensive strategy is transforming our culture. Since 2014, we have reduced SSEs by over 50%, while at the same time we have increased event reporting by more than 250%"
What is the significance of this issue?
"While we have made significant progress, an SSE occurs somewhere in our organization every three days (on average). Our entire industry needs to commit to getting patient safety right – we owe it to the patients and families we are privileged to serve."
How are you improving your organization's outcomes?
"For more than eight years, we have conducted routine monthly operating reviews (MORs). This is a significant part of building an organizational culture of accountability and alignment and it helps our leaders to focus on performance gaps (safety, health outcomes, patient engagement, organic growth, and operating margin). We are expanding this practice throughout our recently merged organization."
How do you give back to the University of Minnesota and the field?
"I hire and mentor UMN School of Public Health MHA graduates as administrative fellows at Advocate. It is deeply rewarding to support fellows' growth and development. I have mentored and coached many leaders at Advocate and in my previous organizations and building a talent pipeline is one of my top priorities. I also serve on the Illinois Hospital Association Board of Trustees and currently serve as Chair."
What do you love about your job?
"Every day is an opportunity to learn something new. I am fortunate to work with such a talented group of leaders. I thoroughly enjoy relationship management and the opportunity to help others realize more of their potential."