Tory Robinett, MHA '19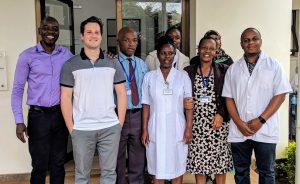 Tanzanians face an increased prevalence of cancer in the face of limited resources. There are currently only three inpatient cancer wards in the country. Tory's clerkship project focused on a strategic work plan to create a new inpatient cancer ward at Kilimanjaro Christian Medical Center (KCMC) in Moshi, Tanzania.
Cultural Learnings
"One major learning from my experience in a global health setting is that cultural sensitivity is key. I learned to ask myself how I can work with the local people to influence change while respecting their culture.
Most hospitals keep medical records manually which results in mistakes. Language barriers make it difficult to communicate, and even simple tasks take extra effort to coordinate. Through these challenges, I now feel confident in my ability to navigate complex situations, and to produce high-quality results in any setting."
Benefits to KCMC
"KCMC benefited from my recommendations on organizational structure, budget, and an operating plan for the new center because it allows the leadership to make decisions with greater ease. It also improves transparency between stakeholders with questions about the project. My influence will allow KCMC to provide accessible, high-quality health care service."
Theory to Practice
"The MHA program prepared me to make recommendations for the creation of KCMC's new oncology ward. I used knowledge from the finance course to create proformas and create capital budgets. The operations class prepared me to properly calculate required FTE's, create work schedules, and diagram work processes. The Minnesota Problem Solving Method helped me to mitigate problems and see things from a different point of view."
Final Takeaway
"To make change in a new culture you must make a conscious effort to speak less, actively listen, and remain open to new ideas. All people, organizations and cultures are different."