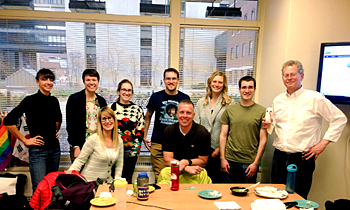 When a major illness — such as this year's severe flu wave —  sweeps across the country, it's big news for practically everyone. But for a group of students in the School of Public Health (SPH), word of the latest flu-bug is often more than just a hot topic — it's an opportunity to come together to learn more about infectious diseases.
The students are members of the SPH Infectious Disease Journal Club, and twice a month they assemble to discuss the latest advances and issues in the field of shared illnesses.
The club was started by PhD students Maria Sundaram and Evan Sorley.
"In our first year as students, we had trouble connecting with other students who were also interested in infectious disease," says Sundaram. "We started the journal club as a way to promote peer-to-peer learning and foster a sense of community with students across the school."
The club is now led by current students Joe Servadio and Maya Rivera and is open to students across the University, although people in SPH programs are its main members. The meetings take place on campus where as many as a dozen members gather to discuss topics found in academic journals, news articles or other sources.
Previous topics the group has discussed include a crowdsourced data bank for Lyme disease, connections between weather and dengue fever, and a discussion of the history of "Patient Zero" in HIV/AIDS research.
"For every meeting, a student in the group volunteers to lead the discussion," says Servadio. "It's a good way to practice presentation skills and critical reading of scientific papers. A couple times during the semester, faculty are invited to present and lead a discussion of their infectious disease-related work."
According to Servadio, club members say they enjoy the chance to share their interest in infectious diseases and get to know people in different programs and years.
"Students have also used this as an opportunity to network, and some student-driven research projects have even developed from members in the group," says Servadio.
In its first three years, the group has developed a strong reputation for engaging in truly productive scientific discussion. So much so, the club has been awarded multiple community-building grants from the Infectious Diseases Society of America and a group of members were invited to present their work on influenza vaccine cost-effectiveness at a North American Meeting of the Society for Medical Decision Making.
The group's next meeting is Fri, Feb. 9 when Sundaram will lead a timely discussion on Influenza and vaccine effectiveness. Students interested in participating should visit the SPH Infectious Disease Journal Club website for information on where and when the club meets, as well as upcoming discussion topics.