More than 43 million immigrants live in the United States and are a population that experiences disparities related to human papillomavirus (HPV). One of the most concerning disparities is an unusually high death rate among women from cervical cancer, which is known to be caused by HPV infection. A new study from the School of Public Health measured HPV infection rates among men and women across the country and found that, despite the higher cancer death rates, foreign-born people actually have lower rates of HPV infection than those born in the U.S.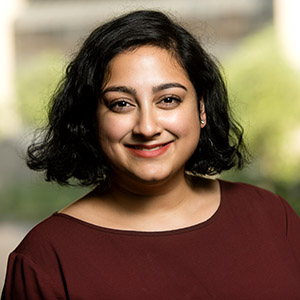 "These results suggest that the higher cervical cancer rates among immigrant women are not due to higher prevalence of HPV infection or high risk HPV infection," says Manami Bhattacharya, study lead author and cancer disparities pre-doctoral fellow.

The study, which was co-authored by Associate Professor Annie-Laurie McRee from the Medical School, was recently published in the journal Human Vaccines & Immunotherapeutics.
Bhattacharya and McRee calculated the HPV infection rates of 1,822 women and 1,622 men ages 20–59 in the U.S. who participated in the 2013–2014 National Health and Nutrition Examination Survey. Participants reported whether they were foreign- or U.S.-born and provided body samples that were tested for varying kinds of HPV. The test results were sorted into three detection categories: any type of HPV, potentially cancerous or "high-risk" HPV, and vaccine-preventable HPV.
The study found:

Overall, 40 percent of women and 46 percent of men tested positive for any type of HPV.

Foreign-born women had a lower prevalence of infection with any HPV type compared to women born in the U.S., 32 percent vs. 42 percent.

Foreign-born men had a lower prevalence of infection with any HPV type compared to men born in the U.S., 39 percent vs. 48 percent.

When adjusting for various social and health factors, foreign-born men were found to have lower odds of being infected with a high-risk form of HPV.
"While the prevalence of HPV infection in the U.S. are lower for foreign-born people, they're not low," says Bhattacharya. "Nearly 1-in-3 women have HPV, which means there is a large population needing interventions to stop the development of cancer."
Previous studies have shown that immigrant populations have increased barriers to health care and screening, which could be contributing to their increased cervical cancer death rates. In response, Bhattacharya suggests that interventions focus on improving access to health care providers, vaccination, and screening among immigrant populations in order to prevent or provide early detection of HPV infection and cancer.
Bhattacharya and McRee are continuing their investigations into HPV among immigrant populations by exploring the messaging they receive from providers regarding the disease and getting vaccinated against it.