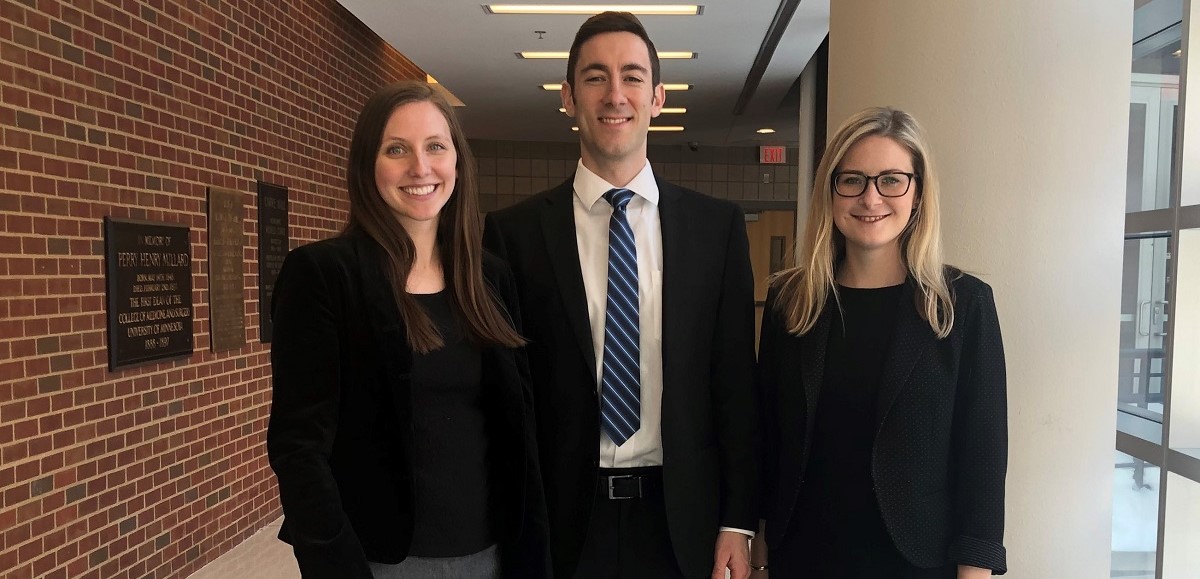 Each year for the past 12 years, the University of Alabama at Birmingham (UAB) has given healthcare management students a real-life, real-time "case" to solve for a health care facility. Teams from across the U.S. and Canada come together to deliver their solutions at one of the largest, most competitive case competitions in the country. This year, the team from the University of Minnesota School of Public Health (SPH) took first place at the 2019 UAB Health Administration Case Competition among 39 teams.
"Case competitions provide an excellent learning opportunity for students," says Master of Healthcare Administration (MHA) program director and Wegmiller Professor of Healthcare Administration Jean Abraham. "To be successful, they must apply knowledge and skills that they have acquired from their formal coursework, including data analysis, healthcare finance, operations, and strategy. Teams from Minnesota have an advantage, given their additional training in advanced problem-solving techniques."
These techniques are part of the The Minnesota Model, the basis of the MHA program, which U.S. News & World Report ranks #2 in the nation. The model includes a rich and diverse educational experience that combines the strengths of academia and practice. A strong alumni network provides broad perspectives and on-the-ground learning.
The SPH team, comprised of MHA students Audrey Workman, Cameron Gabriel, and Alexis Meyer, deliberated over a case involving Georgia's WellStar Paulding Hospital. The only hospital and nursing center in suburban Atlanta's Paulding County, it has tripled in size since 2013 and has reached a turning point between continuing to adapt to increasing patient needs or maintaining status quo.
Gabriel, Meyer, and Workman's winning proposal suggested short- and long-term strategic plans for WellStar Paulding. They recommended that the hospital grow with community needs and position itself for long-term sustainability by 1) expanding hospital capacity through operational efficiencies, 2) investing in primary care, and 3) expanding the Medical Center campus to include a multi-specialty outpatient clinic and continuing care retirement community through utilizing partnerships and new financing models.
"Being a part of the competition was thrilling," says Workman, who's in her second year of the MHA program. "Each round was more energizing than the last and we were so excited and grateful when the results were announced. It's humbling to have your work recognized in such a way. We learned great lessons from the project and feel more prepared than ever to enter the workforce."
Minnesota has placed six times among the top three competitors at UAB, and took first place in 2019, 2018, 2016 and 2010.
Justine Mishek, SPH senior lecturer, who is accountable for the MHA problem-solving curriculum, served as faculty advisor to the team.
"Case competitions are as much about the student journey as they are about the end result," says Mishek. "Audrey, Cameron, and Alexis worked very well together, they had fun, and they kept their mental and physical health top of mind. They also put tremendous effort into this case, including getting to know WellStar and the Paulding community by researching the community needs and health services available, listening to local presentations, and reading the minutes from various community groups' meetings. The team did not stop improving their project and presentation and learned something new each step of the way."